Michael Lindell
Health Services Architect, Raconteur & Artist
Melbourne, Australia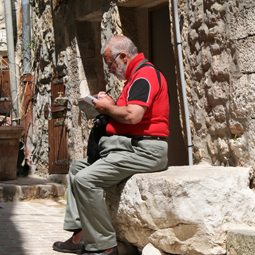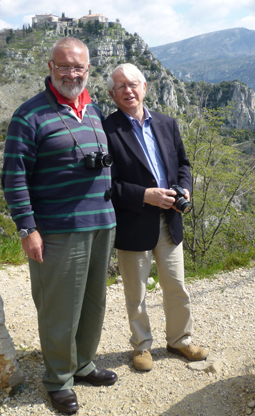 Michael Lindell was born in Melbourne; not a critical point, but it is the one undisputed fact we have about him. He claims to be a devout (but unreconstructed might be a better adjective)  "medievalist" and has worked as an architect and illustrator. His first published work was of Harold MacMillan in the "Junior Age" in 1955. He eschews redundancy but says he has since drawn "many times and often", as "Mikko", the Finnish equivalent of Michael.
Michael is responsible (and accountable) for the cartoons and other images in all three books on Managing Quality in Architecture, spanning two decades and many glasses of vino.
Above left: Michael capturing the medieval essence of Tourrettes sur Loup, SE France, near Vence, 2010.
Left: Michael and Charles on the road to Tourrettes sur Loup, conducting early, pre-BIM, research in anticipation of the current Edition.
Below: Self-portrait of the artist, with bone stylus and palimpsest goat-skin parchment, in a medievalist frame (of mind), courtesy of Grossi Florentino, Melbourne.